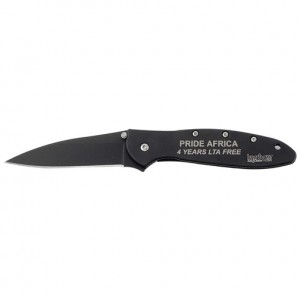 Kershaw Knives started in 1974. They planned to design and manufacture quality pocket knives. Their focus was "every day carry" or EDC knives. Knives that you would actually use, and keep in your pocket for emergencies. Not knives that would stay on a shelf, or in a drawer. They instituted the Limited Lifetime Warranty. Their knives are guaranteed against defects in material and workmanship for the life of the original owner.
Their use of advanced material and superb design has earned awards for Kershaw. Recently they have developed a 2-steel technology which puts 2 kinds of steel into the blade. One for the edge, and one for the spine for strength.
Kershaw is owned by Kai USA Ltd, part of the Kai Group of Japan. Kai has been a quality maker of blades in Japan for over 100 years. They concentrate on research & development, marketing, manufacturing, and distribution. Kershaw's USA plant is located in Tualatin, Oregon (next to Portland), but it is not open for tours. Some of the knives are made there, and some are made in China and Japan.
Engraved Kershaw Knives are pocket knives with your own corporate logo laser engraved of the blade or handle. They are a great corporate gift idea for Christmas or any time.

https://www.logo-knives.com/kershaw-knives.html