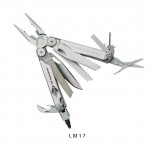 What makes Leatherman Tools everyone's favorite multi-tools? Here are the answers that I have come up with, since selling them for the last 24 years.
They are American-made.

Leatherman Wingman

These tools were born out of necessity at the hands of the founder, Tim Leatherman, an amazing entrepreneur.

They are a toolbox in your pocket. Everything from pliers, wire cutters, bottle and can openers, knives, nail files, and saws.
Leatherman Tools last forever.
Engraved Leatherman Tools carry your logo to all your clients and employees, and are forever appreciated.