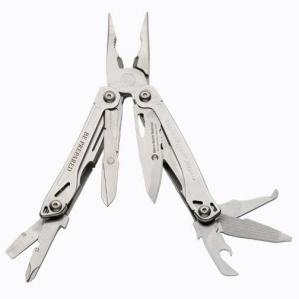 1. All Leatherman Tools are USA-Made
2. All can be laser engraved in multiple locations with your corporate logo or phrase
3. They make perfect Safety and Service Awards
4. Leatherman tools and knives last a lifetime, and come with a 25 year guarantee
5. Every man wants a Leatherman
6. Make your customers happy with a quality business gift.
7. Leatherman tools give your company logo a long-lasting visibility.
These 7 quick tips explain why business owners purchase engraved Leatherman tools. When quality counts, and you want to give a business gift that represents the quality of your own company, Leatherman is a perfect solution.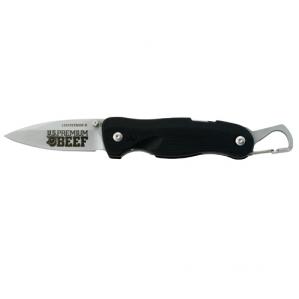 NEW for 2014, Leatherman's Crater Pocket Knife will satisfy the needs of the USA-made knife lovers. Your logo is laser engraved on the blade. The other side of the blade is an optional imprint location. The synthetic handle is 3 3/4″ long, ending in a handy carabiner.  You can also use the removable pocket clip as an alternate way of carrying this useful and long-lasting business gift. Like all tools, this item comes in a gift box for your convenience. The only color available at this time is a black handle. When other knife companies are turning to overseas production, Leatherman continues to proudly make all of its tools in America.
Do you have any other Leatherman Tips? Please give your comments here. We'd like to hear from you.
For complete, up-to-date warranty information on Leatherman tools, go here.