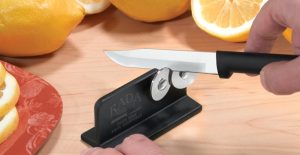 Besides the normal maintenance that you would give any pocket knife, here are some tips specifically for your fruit knife.
Wash it or rinse it thoroughly, to get rid of fruit residue. The acid content of oranges, lemons, tomatoes and some other fruits would etch the stainless steel.
Dry it to remove all traces of the rinse water. This will prevent some steel parts like the spring and pins from rusting. Even some grades of stainless steel can experience some degree of rusting.
Oil it with cooking oil instead of non-edible oil.
Store it in a clean environment, so you won't contaminate your fruit next time you use it.
Use a knife-friendly cutting board. Never cut on a ceramic board, because it would dull your blade immediately.
As with any other knife, here are some general tips:
Keep it sharp. The sharper it is, the easier it cuts. Instead of using a stone, I prefer the type of sharpener that has two steel wheels.  That way I don't get any stone grindings contaminating the works. Then rinse and wipe the knife off before use.
Never use your knife as a pry bar or hammer.
Keep it in the pouch when not in use. This assures it won't get contaminated or misplaced.
Your fruit knife will last longer if you take good care of it. Thanks to "Sharpening By Dave" for some information in this article.