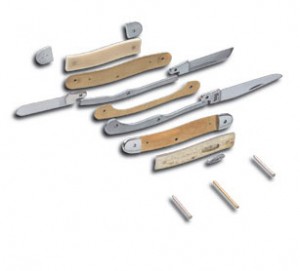 Let's say that your boss wants you to be in charge of ordering Christmas presents for all the employees, or all the customers. This could be a huge task. Fortunately he has narrowed down the gift idea to custom engraved knives. Great. Now you have to go online and find the perfect pocket knife or hunting knife that will get the job done. If he hasn't given you a list of criteria, I'll help you make that list. Here are the points that he should want you to look for. If you and he can narrow down your wish list, then you will be able to find the perfect Personalized pocket knives:
Price. Which knife will fit into your budget? This is a good place to start your list. Knives sell for a range of $5 to $200 each. So you can narrow down your search using this parameter.
USA-Made. Is the country of origin important in your decision? This is something to keep in mind when you are looking for the perfect gift knife.
Size. Would an 8 inch hunting knife become a cherished gift? Or would a small "Every Day Carry" (EDC) pocket knife be the answer.
Brand. Some brands have universal recognition, like Buck, Case, Gerber, Leatherman, and Kershaw. How important is the brand name in your giving campaign?
Color. Knife handle come in different colors of bone and synthetic. Also stainless steel and wood. Does your corporate logo require a certain color combination? Would Laser Engraving your logo into the blade work for your purpose?
Method of Imprinting. Laser engraving is the most permanent, and most popular. It can be done on metal and wood. If you need a color imprint, Case offers the imprint colors shown above.
Production Time. How soon does your boss need the knives? Production times vary from 24 hours to 5 weeks, depending on the brand and current availability.
If you can help your boss with the answers to these 7 things, you will make him happy. And one step closer to a Promotion (I hope). At least the two of you will be able to promote your corporate name to a group of key people.