You are a successful business owner, and you want to give your employees a special gift. You chose Engraved Kershaw Knives with your corporate logo. Here are 3 things to watch out for when you order…………..
Is laser engraving included in the price? Some online knife companies charge you extra, over $6 per knife for that service. Reputable knife engraving companies always quote you the price that includes free laser marking. Some companies do electro etching instead of laser engraving. Electro etching is a good way to apply your logo, but is considered semi-permanent. Why settle for anything less than professional permanent laser imprinting.
Is online ordering easy to do on their website? Do they give you an option to call in your order instead of typing it into the shopping cart? You may prefer to do it one way or another. Some people like to talk to a human being. Some enjoy reacting with their computer, and like to automate their ordering. Easy online ordering is characterized by a neat-looking, attractive, and well-organized website. It is a website that makes it easy to find your product, and to add it to a shopping cart and check out. Most people don't want to "register" and "enter a password", and have someone else's computer "store" their credit card number for future use.
The history of Kershaw goes back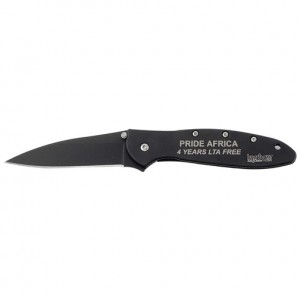 to 1907. Then in 1974, they opened for business in Lake Oswego, Oregon and started their no-hassle, lifetime guarantee. Today their product line includes the finest USA-Made and imported knives in the industry. That's why Kershaw knives is a household name. Every Man Wants a Kershaw.