When was the first time that someone used pocket knives to deliver an advertising message? When was the first Logo actually put on a knife, a logo not belonging to the knife's manufacturer? What is an old advertising knife worth today? All these questions are answered in a unique book, ADVERTISING CUTLERY, by Richard D. White, c. 1999. It's published by Schiffer Publishing Ltd, Atglen, PA.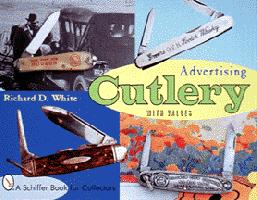 It's an amazing book to me, but I'm partial to company logo knives. I sell them for a living. I'm glad Mr. White decided to assemble this valuable information and present it in a fun, easy to read way. You can tell he loves knives, and has been collecting them for a long time. The book divides the collectible knives into categories:
Agricultural Feeds, Seeds & Services
Food & Beverages
Shoes, Clothing, & Textiles
Consumer Products
Business & Industry
Petroleum Related Products
Fraternal Organizations
Whiskey & Tobacco
Commemoratives & Anniversaries
World's Fairs & Souvenirs
Cutlery Products
Hunting and Fishing
Miscellaneous
HOW WERE THE EARLY LOGO KNIVES IMPRINTED?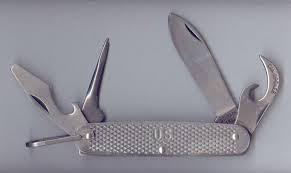 Advertising on knives began about 100 years ago. That was long before laser engraving. According to Mr. White's pictures (and the book is loaded with color pictures), the early logo knives were imprinted with the die-struck method. That's when a heavy stamping machine forces the imprint from the die into the metal handle. This imprinting technique is still used today on name plates and key tags. I haven't seen it used currently on knife handles.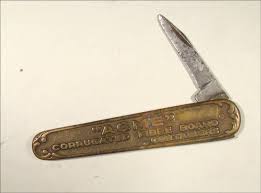 Die cast was another early way to advertise on a knife handle. This provides a 3 dimentional look that is very impressive.
Then hot stamping and screen printing were used. Hot stamping uses a heated die, which pushes the color of a foil ribbon into the plastic handle of the knife. The heat makes a slight indent into the partly melted substrate. This method is still used today, but not so much on knife handles.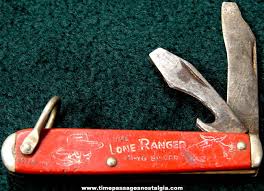 Screen printing is familiar to most people. That's when the ink, or paint, is pushed through the porous areas of a screen onto the knife handle. This is still very much used today on knives.
Today we use laser engraving, machine engraving (like a jeweler's), electro etching, screen printing, pad printing, and laser engraving followed by a color fill.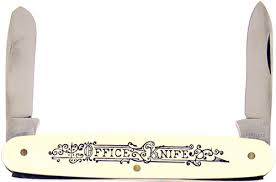 HOW MUCH IS MY OLD LOGO KNIFE WORTH?
If I had a quarter for every time someone has emailed me that question, I'd be rich by now. Mr. White's book has these guidelines for determining the answer to your question.
THE 5 FACTORS WHICH AFFECT THE OVERALL VALUE OF ANY COLLECTIBLE CUTLERY ARE:
Condition
Brand Name
Style
Handle Material
Age
The advertiser is also a factor. If it was a company that used to make asbestos, or any other obsolete product or service, that knife has more appeal to a collector. Barlow style knives have their own special appeal.

Do you have an old advertising knife? Tell us about it, and email a picture. I'd be happy to see it. So would everyone else. Thanks.