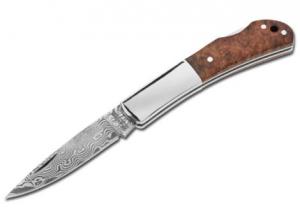 This is America's favorite knife. Every man wants a barlow.
Barlow Knives are popular and loved world-wide since the 1600's. Since there is a shortage of information on them, let me fill you in.
Barlow is a Style of pocket knife, not a company.
Many companies, in the USA and around the world make the Barlow style of knife.
The quality varies from knife to knife, since they are made by many different companies.
There is no one guarantee on a Barlow knife, since they are made by different factories. Each manufacturer sets their own warranty policy.
Barlow knives come in a wide range of prices.
Barlow knives come in a variety of handle (scale) material.
They have 1 or 2 blades.
They  may have a lockback mechanism for safety, but most of them don't.
They all have a subtle teardrop shape, to fit in your palm comfortably.
They all have a large metal bolster to add rigidity to the handle. It is usually nickel plated.