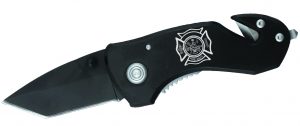 Logo-knives.com has selected the best pocket knife for November 2019. Due to its constant popularity, the winner is the Kutmaster® Compact Rescue Knife 95-1832L.
Here are more reasons for its success:
Safety on the road is of utmost importance. This rescue knife can cut seatbelts, break windows, and cut anything else that is blocking your safe exit from a perilous situation.
Its small compact size, allows you to keep it in your pocket.
Color. That's very important to the looks of a knife. An all-black blade and handle provide this beautiful look.
Engravability. Your company logo can be laser engraved on the handle and both sides of the blade.
Blade style. The tanto-style blade attracts attention because of its smart angles.
Locking mechanism. The integral liner lock holds the blade open when you are using it. It won't accidentally fold up on you.