Personalized pocket knives are usually hand made.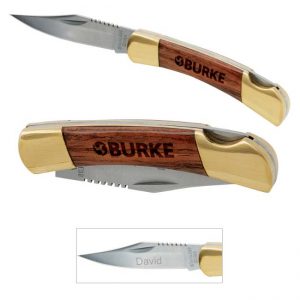 Of course, you need a blade or two to start with. The rest of this is how the blades are protected and held in place when you are using the knife.
The liner is normally made of 2 layers of steel. One on each side of the blade. Then we add the metal bolsters.
All of these pieces are held together with metal pins, through the bolster, the liner layers, and the blade.
How about a spring, so the blade is held closed, and held open? That is usually held in place between the 2 layers of liner, by a pin in the middle of the knife.
To top off the appearance, scales (handles) are added. They can be made out of bone, wood, steel, or synthetic material.
The final product then is personalized with your name. This is usually done by laser engraving on the blade or the handle, or the bolster.
Some modern knives get their advanced look by having the liner do the job of the scales. Some have only a liner on one side, to save weight, and create a daring look.
Locking mechanisms are of two types. The liner lock holds the blade open by a spring action of sliding into the tang of the blade. The tang is the "root" of the blade. The other type of locking mechanism is the "lockback". This is done by the spring locking against the blade tang. A lockback mechanism is easier to use. Some knives don't have a locking mechanism. The blade tang just has a flat spot that rests on the spring to stay open when in use.
This is how the standard Personalized Pocket Knives are made. Knife designers are always looking for more unique ideas to attract knife lovers.