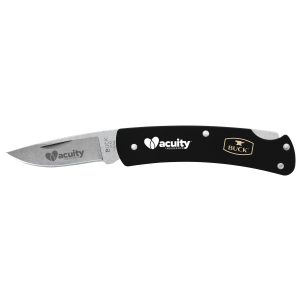 This month, the award goes to these engraved Buck Knives. The Alumni knives 524 were picked because of
their variety of colors. One of them will fit into the corporate colors of a company.
their light weight. The aluminum scales are responsible for this.
the secure "lockback" locking mechanism. This is a favorite of mine because it is easy to unlock, by squeezing the back of the handle.
their being made in the USA.
their small size, so you can easily hide them in your pocket.
the ability to laser engrave your corporate logo on either the handle or the blade (or both).