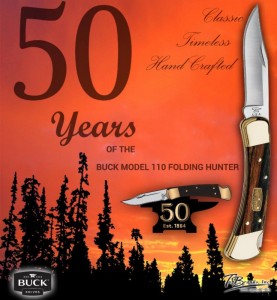 The Buck Knife Company was started in 1902, and has been making quality USA-made knives since then. In 1964, just 50 years ago, they had the best idea ever. They made the first folding hunting knife that was as strong as a fixed blade hunting knife. This knife, the Buck Folding Hunter Lockback 110 is still the best selling pocket knife they make. Its locking mechanism provides safety when using it to its limits. The handle is made of wood, with durable brass bolsters than provide not only durability, but also a fashion statement. When someone mentions a Buck Knife, this is the one that comes to mind. With over 15 million made since its invention, it is often imitated by other knife companies.
The stainless steel blade is the workhorse of this knife. Currently it is made of 420HC stainless steel, but it used to be made of other types of steel in its illustrious past. It was 440C steel before 1981, then 425M for 11 years.  After 1993 they switched to 420HC. Buck always looks to use the best quality steel, to provide these features: Easy to sharpen, ability to hold a sharp edge, hard enough to cut, but not too hard to become brittle, and the ability to maintain its clean stainless appearance. Engraved Buck knives have been used to promote business for many years. Usually a company's logo is laser engraved on the wood handle, the metal bolster, or the blade.
Do you have a Buck 110? Do you like it? Do you have any story you want to share with other knife enthusiasts? Let me know. Thanks.