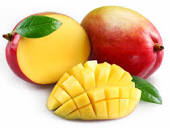 I hope this helps your thirst for knowledge about the fruit knife. Here are 7 common misconceptions:
It is made just for cutting fruit. False. I works great on vegetables, too, like potatoes and pumpkins.
A paring knife is just as good. False. Size really matters, and the paring knife just isn't long enough for some jobs.
A steak knife will do the job better. False. Yes, it may be nice and sharp, and great for cutting meat, but usually not long and slender enough to carve a piece of fruit.
The fruit knife is a recent invention. False. It was invented about 1850.
You can't use it as a letter opener. False. Try it, you'll like it. plus you can safely fold it and keep it in your pocket for next time.

You can only use it in the kitchen. False. It is perfectly ok to use a fruit knife at the table, as determined by Emily Post. "A doily goes under the finger bowl, and a fruit knife and fork on either side."
It's ok to use your fruit knife in a restaurant. False. At least, I wouldn't recommend it. You might walk away and leave it there, and never see it again.