Advertising Cutlery
SKU: SB-ADCUT
Zoom In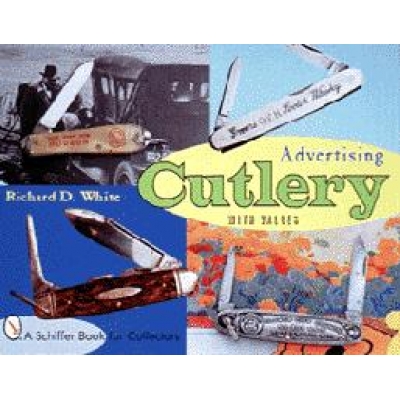 How to find the value of your pocket knives.
$29.95
| Quantity | Price |
| --- | --- |
| 1-4 | $29.95 |
| 5+ | $26.95 |
by Richard D. White
8 1/2 x 11", 410 color photos, 176 pages, soft cover.
Do you have an old advertising pocket knife, and want to know what it's worth? This book is for you!
If you love to collect pocket knives, and are interested in the logos or advertising that was printed on them, Advertising Cutlery is a perfect match for you. Many people email us about an old advertising pocket knife they have. They would like to know the history of it and its value. This book would certainly help in determining the knife's value. Of course, no book on this subject would have every knife ever made, and every logo that was printed on it. But, Richard White has included a wide variety of knife manufacturers and knife styles. I'm sure you will find one similar to yours in this first book of its kind.
Over 400 professional full-color photographs are surrounded by interesting facts about each knife. White also provides the value range and details about the handle materials. He bases his values on years of personal experience collecting advertising knives. White narrows down the value of a collector knife to these paramaters:
Condition
Brand Name
Style
Handle Material
Age
The author is old enough to have developed a huge collection of advertising knives. Fortunately, he is not too old to be able to write clearly, and with a down-home friendly manner. This book is a great book to leave on your coffee table. You will enjoy the attractive pictures and the informative descriptions of each knife. It's a bargain at $29.95.
---
Have questions now?
During our regular business hours of 9:00 a.m. to 5:00 p.m. Eastern Standard Time:
Call us at: 1-800-432-6220
E-mail us


There are no reviews for this product.