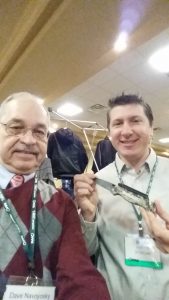 Pocket knives have a special mystique about them. When I go to a flea market, there are always people looking at, and buying pocket knives. They come in all shapes and sizes. Most of them are custom engraved knives with a company logo. Why are they so popular? Here's what I have figured out:
They are constructed of steel, which is a valued commodity.
They help you do a big job, with very little effort.
The intricate mechanical nature of folding knives makes them interesting.


Triple Action Assisted Opener 15-bcr100e

They are collectible because they come in many colors, shapes, and sizes.
They give the user power to do things that he can't do with his bare hands.
They can be used to cut, shave, carve, slice, dice, whittle, scrape, and get you out of a car in an emergency.

They are usually tough enough to last a lifetime, and even get passed down from generation to generation.
Their intrinsic beauty comes from the qualities of the handle material and the blade. Their color and sheen, texture, and smoothness all contribute to their beauty.

Their age can tell a story about their history and ownership.
Custom engraved knives can make your company logo last forever, on a unique advertising piece.