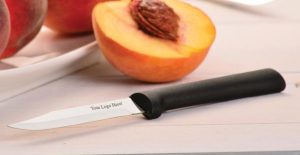 The manufacturing trend in the last 40 years has been to move USA production to Mexico and China, where the labor rates are lower. This means a manufacturer can be more competitive and stay in business. But the pendulum swings both ways. Americans want to buy items made in USA.
Fortunately, American Made Cutlery is available at reasonable prices. You can get your corporate logo electro etched on the blades at next to no cost. (Just the cost of the setup)
Gift sets are designed to fit into fashionable 2 piece gift boxes. There's no need to look for an appropriate container to present your gifts to your customers and employees.