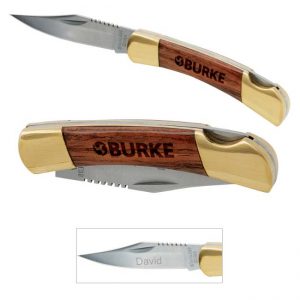 Quick History of the Barlow Knife Co.
The famous Barlow Knives are well-known by people who appreciate a well-made, quality business gift. They were originally made in the USA by Barlow, a company that was based in Los Angeles CA from 1930 to 2005. Barlow made pocket knives, key chains, and money clips and imprinted the customer's logo on them. This was very popular for businesses to promote themselves to their customers. Barlow products had a lifetime Warranty. If the if the items broke, or failed, the end user could just mail it to Barlow for a repacement. The shipping both ways was paid for by the end user. After 12 years, we still get inquiries about this warranty, which is no longer available.

In 2005 the promotional product industry giant, Norwood bought them. Production was kept in China, where Barlow transferred it in 2003, just 2 years before the sale.
Then in June 2009, the Great Recession forced Norwood Promotional Products Holdings, Inc. to declare bankruptcy. So the Barlow Knives brand was once again sold. This time, BIC Graphic North America, another giant, bought Norwood at auction for $162.5 Million. BIC kept the Norwood brand and the little Barlow brand.
Probably the inability to make enough profit forced BIC to sell in June 2017. HIG Capital bought BIC Graphic North America and its Asian sourcing Division for a mere $80 Million. The sales at the time were over $300 Million, according to Bizjournals.com. So this is the third time that the Barlow brand was sold. HIG Capital of Miami FL is a huge company with $21 Billion in equity capital under management. Promotional products are not new to them. They bought Halo, a promotional product distributor, in 2003, and sold it in 2007. The selling price was $62.5 Million. So the $80 Million price it paid for BIC was a real bargain.
It is expected that HIG will continue the same service and products, and do well in this market. Hopefully, the Barlow brand will continue.