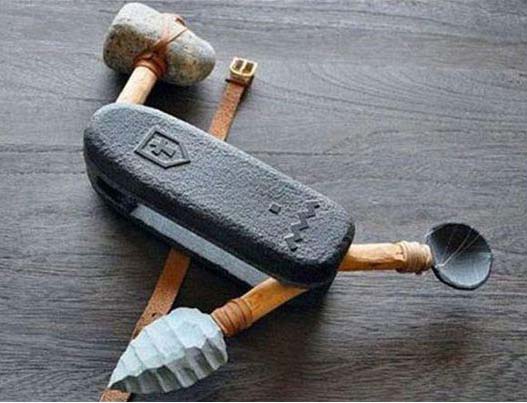 Multi-purpose camping knives probably never looked like this. However, it's fun to imagine a cave man creating a portable tool that can cut, hammer, and scoop all in one neat device strapped to his loincloth.
We've come a long way since stone age tools and knives. Today Engraved Kershaw Knives are the pinnacle of the pocket knife industry. Kershaw stands for quality, life-time guaranteed knives. The Scallion Camo Knife and the Leek Knife are two of the most popular ones today. Kershaw has developed a winning combination of features:
SpeedSafe® –Our assisted-open patented feature.
Flipper–A stainless steel protrusion near the tang of the blade to make it easy for you to open.

Frame Lock–A safety feature to keep your knife open while you are using it.


Kershaw "Scallion" Knife, Camo 1620