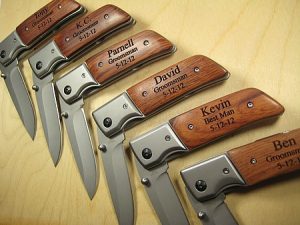 Pocket knives are very popular as gift items to employees and customers. How are personalized knives made? Rather, how is your logo put on a pocket knife blade or handle? It depends on the material of the handle and it depends on the blade. Here are the answers…
Laser engraving is very popular for stainless steel blades and handles. Also wood handles are able to be laser engraved. Smooth leather sheaths  and smooth bone and synthetics, except Zytel, are also able to be laser engraved. This is a permanent imprinting method. It is done by experts who laser engrave all day, every day.
Screen printing is popular with companies that have a color logo, and they want to stick with that color or colors on everything that they have imprinted. This in considered a semi-permanent process. It will scratch off if you put your knife in your pocket with your car keys. One or two colors are possible.
Full color imprinting is a new process developed about 2012. It is like your desktop printer, but better. It is not limited to cyan, magenta, yellow, and black. It can also print white. It prints directly on the handle, etc.
Electro Etching is an electro-chemical process in which the imprint areas are eaten away by acid and electricity. It is a semi-permanent method of imprinting.

Buck-Camo-Knife-Kent Getsee-Dave Navoyosky

However, it is the method of choice by some knife imprinters.

Computerized engraving scratches the imprint mechanically into the metal surface. It is considered permanent.
Color fill of a laser engraving. If you want to add some color to your imprint, one color can be applied to the recessed areas of the laser engraved logo.
Personalization means that each knife is marked with a different person's name. This is a great gift idea for members of a group. The names are usually laser engraved. If someone misplaces their knife, it is easy to identify.
Serialization. If you want to keep track of each knife in your order, each knife can be marked with a serial number. It would be laser engraved.