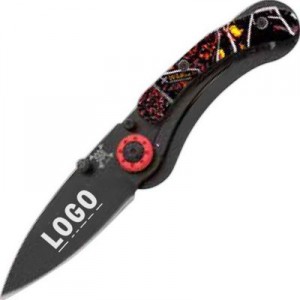 When you order Custom Engraved Knives for your business, to give to your best employees or customers for Christmas, here are some tips. These tips will help ensure that you will be happy with your purchase.
You get what you pay for! You already knew that. Get a name brand, like Buck Knives, Boker, Kershaw, Gerber, Case, Kutmaster, or Leatherman.
Pick the best type of imprint. Laser engraving is the most permanent. It will never scratch off. Acid etching doesn't go very deep, so it can wear off in time. So can color imprints, which are "painted" on. The best epoxy paints are used, and sometimes covered with a protective clear coat, but still, the imprint can be scratched off by your adjacent car keys in your pocket.
Choose a company that has the best service. Sometimes you can judge by the

Kutmaster Compact Rescue Knife

quality of their web page. A neat, clean looking website that answers all your questions is good. It shows that the company is successful and cares about its customers.

Buy a quantity that is sufficient for your needs. If you need 1 or 2 more custom engraved knives later, after you received your order, you will pay more, or be subject to a "less than minimum" charge.