Case Knives, now owned by Zippo, has an interesting knife museum in Bradford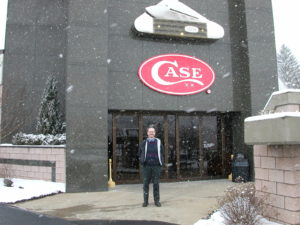 Pennsylvania. The museum has samples of the early knives and the stories behind them. My nephew, Tim Pike accompanied me since he has been a knife fan for years. His grandfather, Thomas Pike, used to have Fort Tuscarora on Route 172 in Lisbon Ohio. History, guns, and knives runs in the family.
My quest for the best pocket knife was easy at the Zippo/Case Museum, because of the abundance of knives there. This place is open to the public, and I highly recommend it to knife collectors. These pictures were taken in 2006, so things might have changed since then. According to their website, the place is open 7 days a week, and boasts of 100,000 visitors per year, from all over the world.