The best knife show in Ohio 2015 had the best pocket knives this year. The Ohio Classic Knife Show was put on by Battle Horse Knives. It was held at the Pritchard Laughlin Civic Center, 7033 Glenn Hwy, Cambridge, Ohio 43725. The best pocket knife that I saw was one of the Buck knives. Buck has always been one of my favorites, because of the durability and its reputation.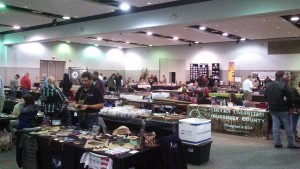 Here are some highlights of the show. Among the 90 tables were unique displays from "aroundthecabin.com/campfire". These guys put on an entertaining live program 6 nights a week.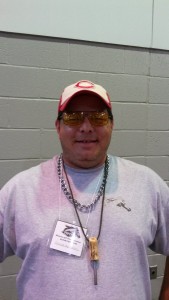 The "Best Display" award went to "Hair of the Bear" owner Moon Munjas from Marietta OH. Moon makes custom knives, sometimes 5 or 6 at a time. His display was colorful and attractive.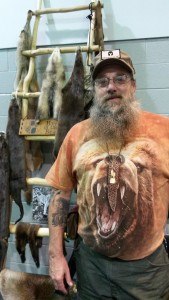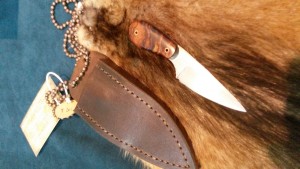 Yurco Handcrafted Knives owner Mickey Yurco, is from Canfield Ohio.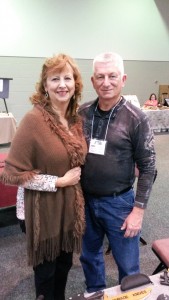 He makes custom designs, specializing in self defense knives. He is a member of The Knifemakers' Guild. Mickey is accompanied by his wife in the picture.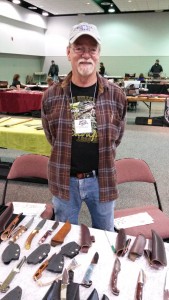 Mickey's buddy, Tim Roddy, from neighboring Youngstown, Ohio also had a nice display of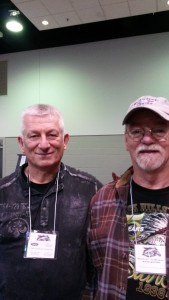 custom knives that he made from the finest stainless steel. He specializes in quality fixed blade knives.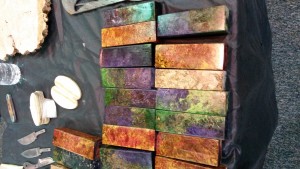 Michael J. Balaskovitz, the director of the 2016 knife show, has "Woodlab Outdoors, LLC", Premium Materials & Servicing. He sells various knife handle materials.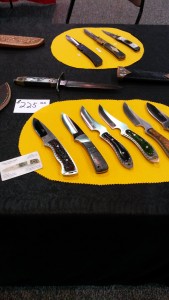 The award winner for "Best Value" in the show was Greg Gottschalk of Carnegie PA. Greg does a beautiful job making hand crafted knives, and is a member of The Knifemakers' Guild and ABS Mastersmith. Of course, all the custom-made knives at the show are made in the USA.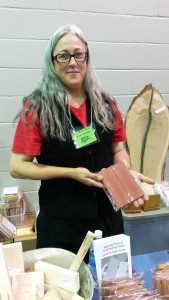 Valerie Hibbard, of Plain And Practical LLC (Scales & Grip Blanks & More) had a huge display of various hardwoods that she sells to knife makers. She is from Hilliard Ohio, and travels around looking for unique specimens of hardwood which she can bring into her store.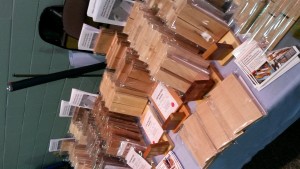 Wayne G. Hensley, and his business, Custom MadeCutlery, had an interesting table. Wayne's motto is: Materials by God, Crafted by Hensley. Wayne is a member of The Knifemakers' Guild, Professional Knifemakers Association, and Georgia Custom Knifemakers' Guild. He is also the vice president of The Knifemakers' Guild. His picture is missing here.
My nephew, Tim Pike (a camo knife connoisseur) and I had a great day looking at some of the country's best pocket knives.