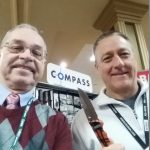 Engraved Buck Knives are designed and made by an American Company.
They are covered by a "Buck Forever Warranty"
Their brand name is recognizable all over the world.
Your company logo, laser engraved on the blade, will last forever, just as the knife itself.
They are great safety awards and service awards for employees.
Our customers appreciate this form of advertising, when we give them a Buck knife.
A Buck knife with our corporate logo leads to "word-of-mouth" advertising when shown to friends.