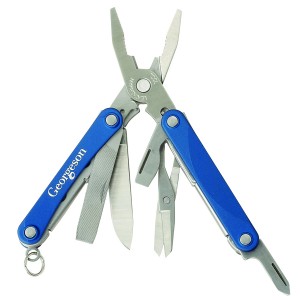 No doubt that everyone knows the value and reliability of Leatherman Tools. They are known the world over as the best multi tool ever made. There are many styles to choose from, and 2 sizes to choose from. So how do you decide which ones are for you? You can't just make a list of functions that you need, because an emergency may arise, that requires a function that you didn't think of. Here are my recommendations. A full size one (about 4″), and a mini one (about 2 1/4″). The 2 engraved Leatherman Tools with your company logo that you should have in your car, tool box, or boat.
The Leatherman Squirt, PS4. This mini multi-tool fits easily in your pocket, and will always be with you when you need it.
The Leatherman Wingman LM37, for a full-size tool for about any job you will come across.
Get one of each, and your life will be complete! Made in the USA.