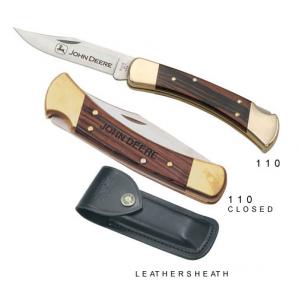 Buck Knives go way back to 1902. The inventor, Hoyt Buck, from Kansas, started out as an apprentice blacksmith. He got obsessed with finding a way to temper steel so that it could be made into a better knife blade. A blade that would hold a sharp edge longer than previous blades. He started making custom Buck knives in 1902 out of old file blades. In 1945 he and his wife moved to San Diego. There, his son Al Buck started a partnership with him to produce Buck knives. The company was called H. H. Buck and Son.  After Hoyt died, Al  decided to incorporate, and started Buck Knives, Inc. in 1961. The most famous offspring of this important knife company was made in 1964–the Buck Folding Hunter model 110. We celebrated its 50th anniversary in 2014. This wood handled lockback knife is the pocket knife that is synonymous with the Buck company. If someone says Buck Knife, this is the knife they are referring to. It is often imitated by other knife companies.
Today, in 2016, the 3rd and 4th generation of the Buck family are involved in the successful business. CJ Buck is the president and CEO today (and since 1999), and is the grandson of Al Buck. He took over in 1999 from his dad, Chuck Buck, who later died in 2015.
The secret to the sharpness of a Buck knife lies in the heat treating process that Paul Bos developed in 1956. It is a process of heating then freezing, then re-heating of the steel. Paul retired in 2010 from Buck, but the process is still used. Bos received the Blade Magazine Industry Achievement Award in 2007 for his involvement in heat treating technology.