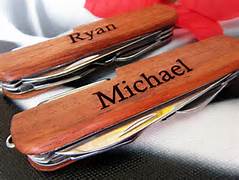 Logo'ed or Logo Knives are pocket knives that have your corporate logo laser engraved or screen printed, or pad printed on the blade or handle or bolster.
Personalization is a term used for putting a person's name on each knife, so that each knife has a different name. This is great at Christmas time, when you are giving a logo knife to your employees, and you don't want them to accidentally get switched. Having personalized knives in your shop will make sure a person can identify his very own knife in case he lays it down somewhere.
Not all knife engravers are capable of doing both of these processes. Some can do only one.