The original folding fruit knife was made of silver and mother-of-pearl in the late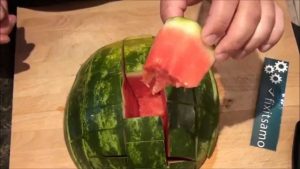 1700's in England. Why those materials? Silver is relatively soft, but it is resistant to the citric acid that would eat away at steel. Also, silver has anti-microbial qualities, which would tend to keep the knife free from harmful growths of bacteria. Mother-of-pearl is also impervious to citric acid, and it adds to the beauty of the knife. The less expensive fruit knives had celluloid handles, which would also be resistant to the acid content of fruits.
Today, most fruit knives are made of stainless steel. Sometimes plastic handles are used, to make the knife handle last longer.
In America, the fruit knife became popular in the 1930's. Many companies would have their logo imprinted on the plastic handles in their corporate colors. They would give these as advertising products to their customers. Many are found in the possession of knife collectors today.
PURPOSE:
These specialty knives are made with very long skinny spear blades. Some blades are serrated. They are used by fruit and meat inspectors to get a sample from deep inside the product. The inspectors can then examine the smell, texture, and color of the product.
Credits: Some of this information is from the book Advertising Cutlery, Richard D. White, 1999.