YouTube has a few interesting videos on how to electro-etch your imprint on the blade of a pocket knife. Just go to Google and type in logo knives and click the "videos" tab, to find some short videos. They show how any do-it-yourself-er can develop this interesting hobby. I tried this method when I was in high school, and had some success. It involves using DC current, which passes through a salt water-soaked pad, which is placed onto a stencil that is temporarily taped to the knife blade. The electricity just eats away at the steel, and your imprint is slightly dug out of the steel blade. For the stencil material, I used an old-fashioned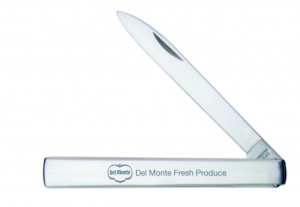 mimeograph stencil. I don't suppose you can find that material now. You would put it into your typewriter, and the striking action of the steel letters would damage the stencil enough to make it permeable to liquids. You wouldn't use the typewriter ribbon. You would turn off the ribbon. So the permeable area that is the "letter" would act like a screen in a screen printing process. Only you wouldn't be using ink. You would be driving the salt water through the screen area.  Today, you can have someone make you the stencils, then you can do the fun part.
If you don't need a hobby like this, you can have a professional knife etching company apply your corporate logo. Electro etching is only one way of doing this. Modern laser engraving machines have become more popular. They actually make a deeper, more permanent imprint into the stainless steel knife blade.