What makes a great pocket knife? First of all, the brand makes a difference. Kershaw knives are top quality. Here is a list of the anatomy of "Great Engraved Kershaw Knives".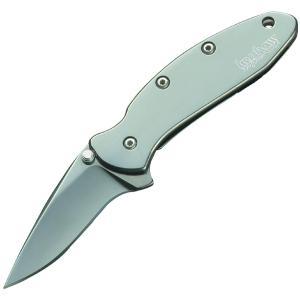 Stainless steel. Kershaw uses the best grade of 420hc steel, so that the blade arrives sharp, and stays sharp for a long time. Then you can bring it back to that factory edge easily.
Packaging. The way a gift if presented is as important as the gift itself. All Kershaw knives are boxed in a genuine Kershaw box.
Design. They have a world renown design team.
Engraving. Your corporate logo will look good, permanently laser engraved on the handle or blade.
Price. Competition always controls the price of everything, even pocket knives.
Mechanism. Most of their knives come with the Speedsafe assisted-opening system. This makes the blade come out fast, with very little of your effort.
Locking system. The framelock design keeps your blade locked open, so it doesn't buckle on you.