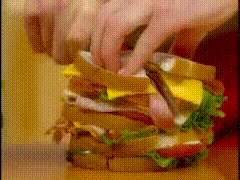 It's almost lunch time for me- my menu varies from a salad, to soup, or maybe just leftovers from last night. But today is Sandwich Day, so I think that is the route I'll take today!
Did you know that logo knives are the secret ingredient to building the best sandwich?
Step 1- Locate your bread (white, multi-grain, tortilla, croissant)
Step 2- Choose your meats & cheeses
Step 3- Grab some veggies- lettuce, tomato, pickles, roasted red peppers, etc
Step 4- Top it off with mayo, mustard, or deli dressing
Step 5- Cut it in half with any of these logo knives:
ENJOY!