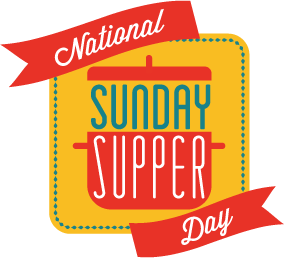 How often are you able to corral your entire family together for dinner? Just one or two days a week? Everyday? It's not a competition- do whatever is reasonable for your family to handle. Today is National Sunday Supper Day, a day that revolves around the idea to help bring families together around the dinner table. In decades past, it was a common tradition for families to gather in the kitchen, help prepare a large Sunday dinner, and then sit down to enjoy it together. Nowadays with work schedules, homework, after-school activities, and the like, it can be hard to get everyone together, no matter the size of your family. It starts with just one day a week, and can quickly become a weekly or daily tradition.
Here are some easy tips to help bring #SundaySupper back:
Plan the menu with your family- you'll have something everyone will look forward to
Keep it simple- choose no-fuss recipes
Prep your meal with American Made Cutlery– it'll speed things up so you spend more time bonding, and less time cooking
And don't stress about it! Do what works for your family. Just cook, sit, eat, and communicate, and it will quickly set a positive vibe throughout your household.