Many business leaders like to show their appreciation to their employees, and folding knives are a great way to do that. Personalized pocket knives are knives that have the person's name somewhere on them, besides the company's logo. Here are 3 tips to make your project a success.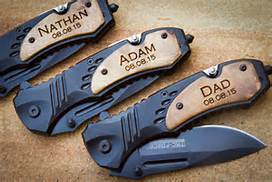 Put the recipient's name on the outside, where it can be seen, instead of on the blade. The handle or the metal bolster are the best places. Your logo can go somewhere else on the knife.
Instead of engraving their first name and last name, engrave their first name and number of years of service. That adds more depth to your gift.
Packaging is everything. If you can order a metal or wood presentation box, your gift will be much more impressive. Case knives have optional presentation containers that add to the perceived value of the gift knife.